The PvXwiki community finds this to be an excellent build.
If you disagree with this rating, please discuss it on the build's talk page.
This build has been designed for the following use:
Farm the Tengu outside Jaya Bluffs in an efficient manner and with relative ease. Shadow Arts lets you move from one group to the next fast. An average run will take around 7-8 minutes depending on how smooth it goes.
Attributes and Skills
Edit
<pvxbig> [build prof=rt/a channeling=12+1+3 shadow=12][destructive was][ancestors' rage][heart of shadow][unseen f][shadow sanctuary][feigned neutra][shroud of dis][dash][/build] </pvxbig>
Equipment
Edit
Survivor or Blessed Insignias
Channeling Magic set preferably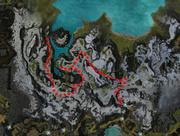 Make sure you have enough energy to spike a group down.
Keep up Shroud of Distress as necessary, the regen helps.
Spam Dash and Heart of Shadow to move faster. Just keep energy in check.
Precast DwG and aggro the group.
Use Shadow Sanctuary or Feigned Neutrality and wait for the to ball.
Use Unseen Fury when all the melee are balled.
Go Ancestors' Rage->DwG->HoS to kill the group.
You can also just drop DwG instead of HoS, but it's healing and more mindless.
If you aggro two groups, use Feigned Neutrality and then Shadow Sanctuary for ball. Use Unseen Fury when the melee are balled and kill.
Follow the path on the map or refer to the video if you don't know where to go.
Counters
Edit
Variants
Edit
Dark Escape
Blind was Mingson
There are 17-18 groups of Sensali, the one at the frozen lake in sometimes killed.
Killing multiple groups at once saves a lot of time
Ad blocker interference detected!
Wikia is a free-to-use site that makes money from advertising. We have a modified experience for viewers using ad blockers

Wikia is not accessible if you've made further modifications. Remove the custom ad blocker rule(s) and the page will load as expected.