This build has been archived as of 11:40, March 28, 2010 (UTC) (EST), for the following reason:

Not capable of farming anything worthwile

This build had been designed for the following use:

This build was in the category good before being archived.
This build allows a player to farm large numbers of Minotaur in the Elona Reach mission, Hulking Stone Elemental outside of Sardelac Sanitarium in Hard Mode, Trolls and Kirin on the Pongmei Valley.
Attributes and Skills
Edit
<pvxbig> [build prof=eleme/mesme firema=12+1+3 waterm=11+1 energy=5+1 inspir=4][Arcane Echo][Mist Form][Channeling][Meteor Shower][Bed of Coals][Frozen Burst][Teinai's Heat][Lava Font][/build] </pvxbig>
Equipment
Edit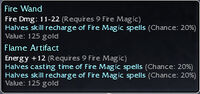 Before approaching selected foes, cast
Arcane Echo
.
Counters
Edit
Variants
Edit
See also
Edit
Farmable Places
Edit
Ad blocker interference detected!
Wikia is a free-to-use site that makes money from advertising. We have a modified experience for viewers using ad blockers

Wikia is not accessible if you've made further modifications. Remove the custom ad blocker rule(s) and the page will load as expected.